I've only done two Low GI days and I'm not sure how I'm supposed to keep within my fat macro numbers.
I need to eat Protein to keep thos numbers up (eg. Turkey Meatballs), but that food alone maxes out my quota for fat. How important is it to stick to this number? Is there something I'm not getting? I still haven't eaten dinner!
Here's today, for example: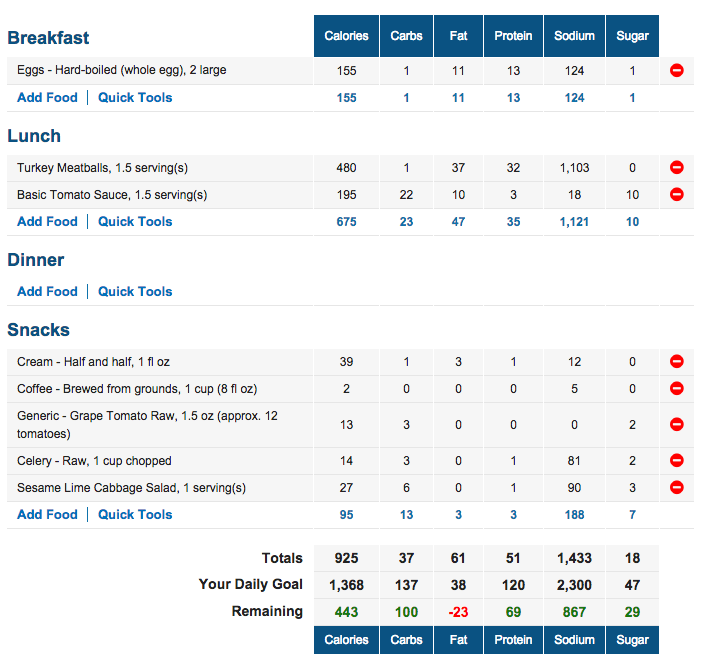 katie_t




Posts

: 7


Join date

: 2015-01-20



Katie are the numbers correct for the meatballs and tomato sauce?  They seem really high for both given what they are.  Below is my macro breakdown for today.......and I had pork tenderloin stuffed with ham and a little bit of swiss at supper and some prosciutto in my brussel sprouts and that is considerably lower than the meatballs and sauce (total fat for supper was only 26 g) and I wouldn't think that it would be!

Heather Robbins




Posts

: 11


Join date

: 2015-01-15



Howdy! You just need to chose more wisely for your protein with less fat
If you have met your fat but not your protein you could always just have a protein shake in water! If you need more carbs not not fat you could have anything like oatmeal, rice, sweet potato etc. Here in this situation your supper could be chicken and some sort of carb. I hope that helps.
Yeah, although the turkey was lean ground so I don't how much wiser I can get. The sauce is basically tomato, onion, and garlic. I think I may have done something funky when I put the recipe into MyFitnessPal. I dunno. I'm chalking this upto a loss for the time being.

katie_t




Posts

: 7


Join date

: 2015-01-20



I wouldn't worry about it at all, it was just one meal. I am not sure lean ground turkey could be that fatty either. The sauce seemed to have a lot of sugar too for just being those ingredients.
Keep in mind that MyFitnessPal is based on calories that user's input - they might not be accurate to what you made. I've found that myself with some stuff like Avocado and homemade pasta sauce


dan.barker




Posts

: 3


Join date

: 2015-01-18



Thanks Dan. Really the only way to tell is to weigh the food on a food scale but most people wouldn't have one. Keep up the great work!
Thanks guys, I do have a scale and have been using it more! I agree that MFP is kind of touch and go with stuff - I find I spend a lot of time searching around for the best options to input...

katie_t




Posts

: 7


Join date

: 2015-01-20



---
Permissions in this forum:
You
cannot
reply to topics in this forum